Seeing Gold - Windy Fishing In Flamingo
2009-04-02 13:51:21
Flamingo, Florida - Saltwater Fishing Report
Over the last month I have not had one day on the water where the wind did not reach 20 knots at some point... This week was no exception. Overcast skies and dirty water made things difficult. The good news is the Redfish and Snook were very active on all but one day. I was able to target them with good success on points and structure using a mixture of live and artificial baits. I reverted to Winter-like patterns and the fish eventually cooperated.
A Tough One
One day in particular last week will last with me for a while... it was my toughest in a very long time. It started with wakeup call from my sick 5 year old daughter... I should have known then. My typical morning routine was blown and I was late to meet my client... from there it went downhill. The wind was twice the prediction and out of the Southwest, which is possibly my least favorite direction. We were cursed by rubber-hook syndrome and crushed by a pulled hook on a true Flamingo monster... a Snook that was easily larger than 45" ate a Rapala Subwalk in front of our eyes and after three jumps, gave it right back. We never gave up plugging away, which resulted in a few reliable species like Ladyfish, Jacks and Snapper... easily my worst trip in as long as I can remember. It happens to everyone.
Luckily, I redeemed myself the following three days with some excellent big fish catches that will be featured in next week's report.
Seeing Gold
Whitewater Bay can be a goldmine for big Redfish. When they're hungry there simply is no stopping them. After catching a good number of Snook and Trout each morning, we stopped to see if the big Reds would eat... did they ever.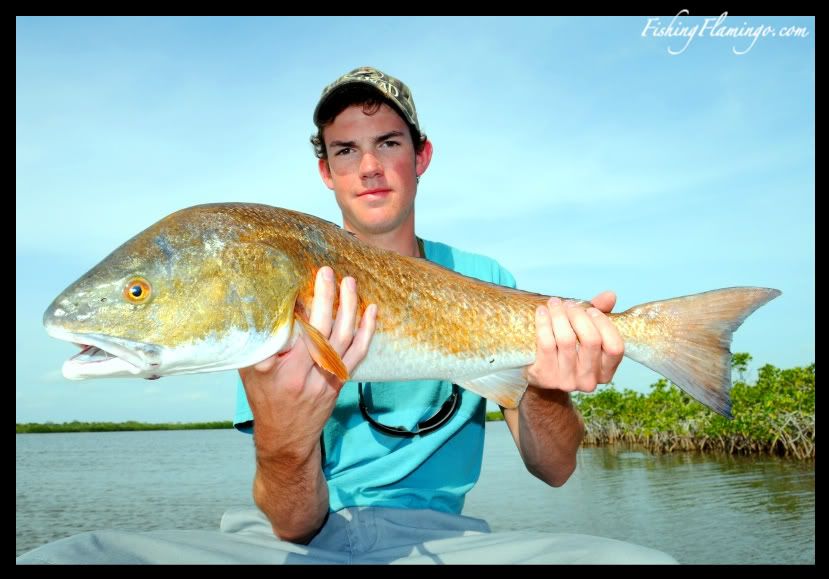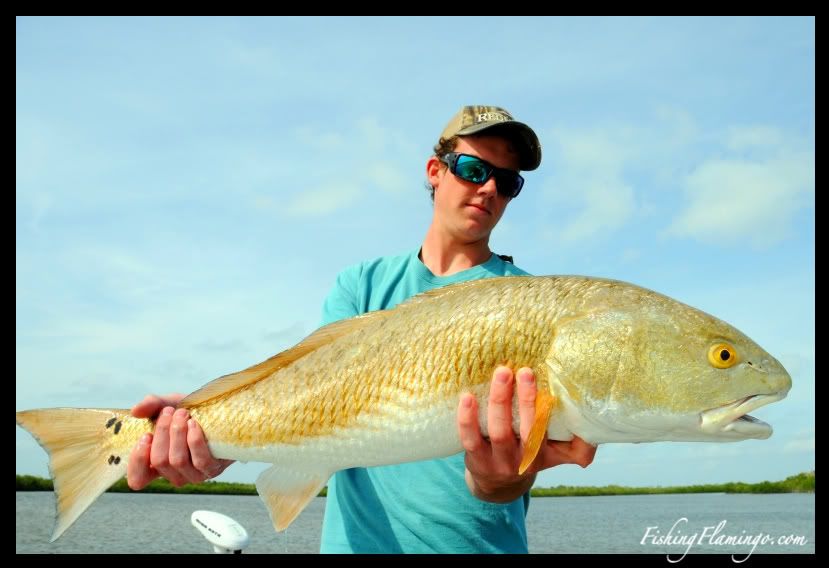 Seeing Gold... Flamingo style
A New Dream Boat
I was fortunate enough to be entrusted with the new child from Maverick Boat Company last week... the newly redesigned Maverick 18 HPXV. I have been known to get excited over their products, but not nearly as excited as I am about this one.
Occasionally, you'll hear people brag about their boats, slightly stretching the truth...
"My poling skiff runs dry in a real 2' chop"
"My poling skiff is not tippy"
"I can live bait fish in my poling skiff"
"My poling skiff has tons of storage"
"My poling skiff will run 50 mph"
Maverick didn't address just one of those wishes, they addressed all of them. I poled this boat on a Flamingo flat with two clients in easily 8" of water... I ran 50+ miles per hour in a chop closer to 3' without getting either of them wet... I caught over ten dozen pilchards and kept them alive all day, while we three of us fished comfortably... considerably more spacious and stable than any other poling skiff I have experienced. In my opinion, it is hands down the best poling skiff on the market. See and test it for yourself at http://www.CaribeeBoats.comin Islamorada next week... I guarantee it will blow you away.
In typical Maverick fashion, the fit and finish is second to none.
Kudos to Maverick Boat Company for raising the bar once again.
Until next week…
Fish Species: redfish, snook, tarpon
Bait Used:
Method Used:
Water Depth:
Water Temperature:
Wind Direction:
Wind Speed:
About The Author: Captain Benny Blanco
Company: Fishing Flamingo
Area Reporting: Flamingo and Florida Everglades
Bio: I've been fishing in Everglades National Park for many years, in everything from the rented skiffs available at Flamingo Marina to my new 21' Hewes Redfisher. The water has been my home away from home since I was barely big enough to carry my rod to the nearest fishing hole. I grew up learning the canals and fresh water lakes of South Florida. Once I got tired of catching the same bass over and over, I discovered the larger saltwater fish and was hooked for good.
305-431-9915
Click Here
For Past Fishing Reports by Captain Benny Blanco