South Indian River Fishing Report
2008-03-07 18:51:14
Port St. Lucie, Florida - Saltwater Fishing Report
Port St Lucie, Fort Pierce, Vero Beach, Jensen Beach, Florida
March 7, 2008
INSHORE:
Ahhhh.....it must be March here on the Treasure Coast. Windy weather one day....calm waters the next. There has been plenty of fish out there, but some days test your nerve on trying to find them. We had gusty conditions early in the week that turned to calm water by mid-week and blown out by Friday. It's still great to live and fish here on the Indian River!
Peter Gerken with a jack crevalle and 26" redfish from the flats...
Most of our catch this week consisted of trout, snook, ladyfish and jacks. It was hard to find areas to fish out of the wind, but everyone caught fish, in spite of it. I had Gary and Kim out earlier in the week and they caught fish in spite of the wind blowing. Peter Gerken was out with me on Thursday and it was one of those rare calm days of spring. We had a great time sight casting to redfish and Peter ended up with a nice 26" red that day. Joe Venarini and Tom Lohr were out today and we found fish in spite of a very gusty day on the water.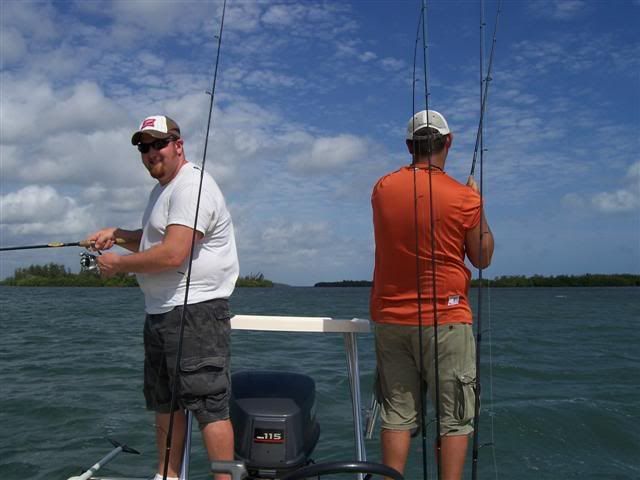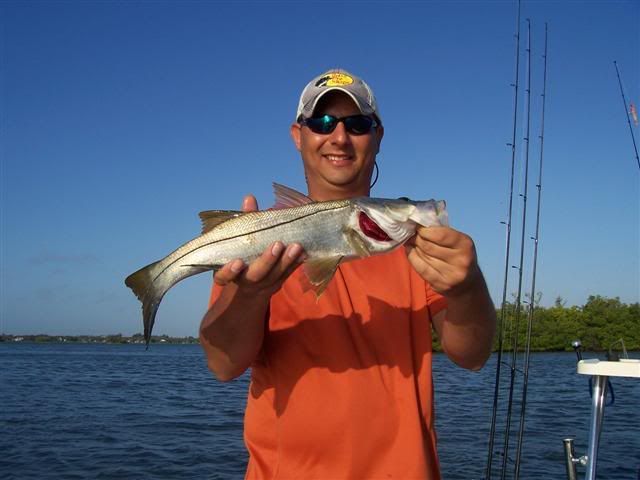 Joe Venarini with a snook and with Tom Lohr enjoying a windy day on the water....
The trout bite should pick up as the water clears up and the temperatures begin rising again. We have seen a number of redfish in the shallow flats. Look for that action also to improve with water temperature. We caught some short snook on the flats, but most of the activity has been at night on live bait or jigs. Brennan and Patrick from the Fishing Center have hooked up on a number of tarpon and snook on the jetties at night this week. Give the wind a chance to settle back a little and things should be great out there again next week.
Jacks and ladyfish are again everywhere. Sand perch, some croakers, sheephead and black drum have been around the bridges. Live or dead shrimp are being used on the catwalks. The Surf has held whiting and pompano. Spring is almost here.
Tip of the Week:
March is a month that can challenge most anglers. Blustery days can test both your stamina and will out there. I try to use the wind to any advantage that might provide better fishing opportunities. Whether it's hiding back in the islands or drifting with the wind, you can still find areas to fish. I guess that's one reason I enjoy fishing this area so much. We have a wide variety of options to enjoy the waters here. Enjoy and use it to your advantage. Let's go fishing!
As always, remember, fishing is not just another hobby....it's an ADVENTURE!!
Good Fishing and Be Safe,
Captain Charlie Conner
www.fishtalescharter.com
email: captaincharlie@fishtalescharter.com
772-284-3852
Fish Species: Redfish, snook and trout
Bait Used: Live bait, top water, jigs, spoons and soft baits.
Method Used: Flats Fishing
Water Depth:
Water Temperature:
Wind Direction:
Wind Speed:
About The Author: Captain Charlie Conner
Company: Captain Charlie\'s Fish Tales Charters
Area Reporting: Fort Pierce & Port St Lucie, Florida
Bio: Specializing in light tackle fishing on the flats of the Indian River for snook, redfish, trout and tarpon. Over twenty-five years experience fishing the Indian River Lagoon.
772-344-3187
Click Here
For Past Fishing Reports by Captain Charlie Conner