Spring Break Fishing In Flamingo
2009-04-12 12:54:15
Flamingo, Florida - Saltwater Fishing Report
There are few other bonds stronger and longer lasting than that of a Father and Son... while I hope to have something very similar with my three daughters, on occasion I get to experience it first hand with clients and their sons. The last two weeks were Father/Son overload for me... Spring Break weeks brought back to back multi-day trips with four Father/Son duos that I will not soon forget. Having been on the water literally non-stop, my weekly reports took back seat to my commitment to these Father's hope of hooking their sons on fishing. This report will make up for lost time... lot's of pics.
Brandon & Anthony
Hailing from Boca, they needed to get away from a typically busy schedule filled with non-stop phones for Anthony and school for Brandon. One on one time is tough when on a regular schedule and Brandon's Spring Break from school provided a perfect opportunity... Two days in the Everglades Back Country can cure any regular schedule blues.
Prior to this trip, I believe they had only caught a few small Snook... they had hopes of adding to their species list and did they ever. We fished in Whitewater Bay, Lostmans and other rivers North, Tarpon Bay and East Cape for two days in less than favorable conditions. Brandon & Anthony were troopers and great students... they were rewarded with over 80 Snook, Redfish, Trout and Goliath Grouper, slamming many times over... they left tired, with sore arms and huge smiles on their faces!

Curt & Ian
A new client and friend, Curt called with similar hopes of sharing his love for the skinny with son, Ian. While there were plenty of fish around, getting them to bite a hook and sticking a hook in them when they did bite proved to be tough prospects. Then it happened... when Curt and I were occupied, Ian spotted a cruising Redfish, made a perfect cast, set the hook like a pro and brought him to the boat like it was easy business... his first ever Redfish. I took great pleasure in watching a very proud papa coach his son... I witnessed a memory that will last a long time in their family.

Curt's other hope was to show Ian a true Florida Crocodile... Ian spotted something!

It was not a monster like we encountered on the Cape last year, but a teenager out fishing... fitting for the occasion.

Eddie & Kevin
An accomplished Fly Fisherman and frequent Bahamas Bonefisherman, Eddie dreamt of the day he could share his passion with his son Kevin. Like the others, Spring Break provided an opportunity to do more than that. In grand style, Eddie planned a week long excursion where they could do more than just cast a rod for a few minutes... they truly lived it up, Everglades style. We let the weather dictate which boat and which direction we headed... and although the weather was very tough, the fishing was not. After catching his first Snook & Redfish on the Florida Bay Flats on day one, Kevin would not look back from there... his casting went from zero to hero very fast. He was hitting mangrove covered spots like a pro and catching tons of fish... a back country slam was accomplished early and often. We switched sights to large fish... hoping to move Kevin from novice level to the 30/30 club (30" Snook & 30" Redfish)... We should have set our sight higher, because he hit every mark we set.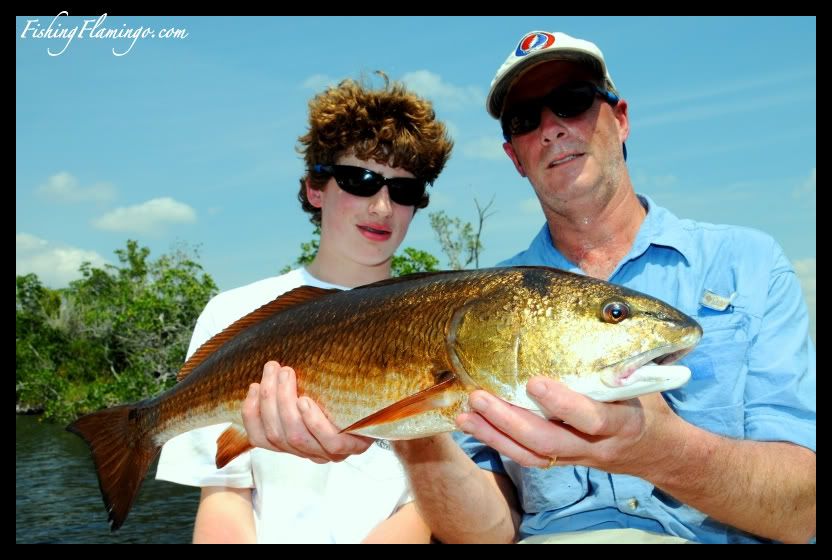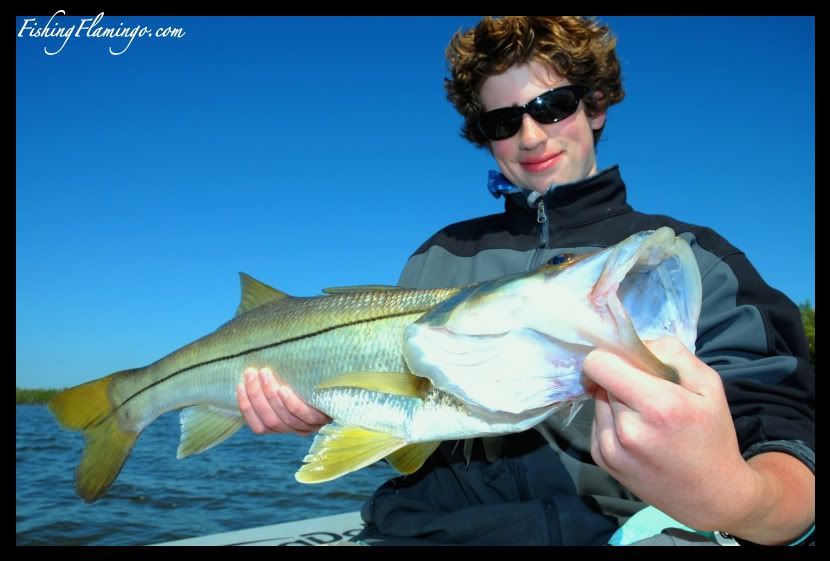 A proud Dad with his best friend... Thank you for allowing me to share in this adventure.

Felix & Max
I've known these two for a couple of years... they bought Jim Chambers' Hewes 21' Redfisher and I promised a trip in mine to help with the learning process. They are truly a blast and I would do it again in a heartbeat. Felix and Max are an inseparable team of diehard fisherman whose accomplishments include Blue Marlin, not to mention all of the sought after back country species. You might think they would be hard to please, right? Nope... forget about the Snook, Trout and Tarpon they caught, Max was awestruck by the Shark he constantly nagged me to catch... two Lemons and one Bull. He would have caught them all day if Felix and I would have allowed.

Pace Anglers
I also had the pleasure of fishing with Scott, Phil and Tom... teachers (& Head Baseball Coach) at Pace High School. Cursed by a Strong Southwest wind, the fishing was tough. They fought hard to catch a hand full of Snook in the morning. In the afternoon, we went "Pig Hunting"... looking for Large Snook, Redfish & Tarpon. A 6'+ Tarpon thought hard about our bait for a minute and then slowly swam the other direction... and a large Redfish swiped at another before doing the same. However, Coach Tom's bait found the back of a large Snook's mouth and came aboard for a quick picture or two... we were a little beaten about the fact that she was the smallest in the group, but at 15 lbs we were not complaining. He also sightfished a Goliath Grouper that worked him good… we estimated it to weigh in the 35 lb class. It was an awesome fight and pretty amazing to watch him inhale the bait.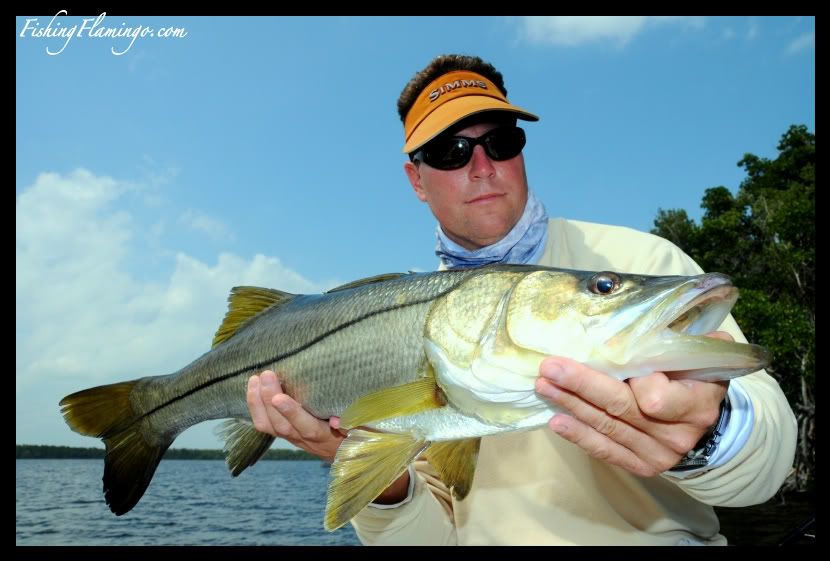 Baby Tarpon are not much of a fight, but always bring a smile after witnessing their acrobatics.
Until next week... thanks for reading


---
Capt. Benny Blanco
Fish Species: snook, tarpon, redfish
Bait Used:
Method Used:
Water Depth:
Water Temperature:
Wind Direction:
Wind Speed:
About The Author: Captain Benny Blanco
Company: Fishing Flamingo
Area Reporting: Flamingo and Florida Everglades
Bio: I've been fishing in Everglades National Park for many years, in everything from the rented skiffs available at Flamingo Marina to my new 21' Hewes Redfisher. The water has been my home away from home since I was barely big enough to carry my rod to the nearest fishing hole. I grew up learning the canals and fresh water lakes of South Florida. Once I got tired of catching the same bass over and over, I discovered the larger saltwater fish and was hooked for good.
305-431-9915
Click Here
For Past Fishing Reports by Captain Benny Blanco