Weekend Fishing Update Salmon River to Oswego
2008-07-15 21:06:04
Lake Ontario, New York - Freshwater Fishing Report
Salmon River to Oswego
Weekend ups and downs-
Friday was the best day- we trolled from 200'-300' all the way to just east of Oswego- we had 6 hits and landed all six kings- 4 of the 6 were adults. All the fish hit were Spin drs in white/green with siggs riggs hypnotist(green glo) flies.
Sat we fished the just east of Oz in 300' and never took a bite for salmon. So at 10am we decided to hit brown trout alley off alcan in 80-100'. We had decent action for 4 hrs. All on spoons run 15-30' back 10-15' off the bottom. Die hard stinger spoons did the most damage. We had at least 15 hits boated 11 but only had 6 keepers- one was over 11#s.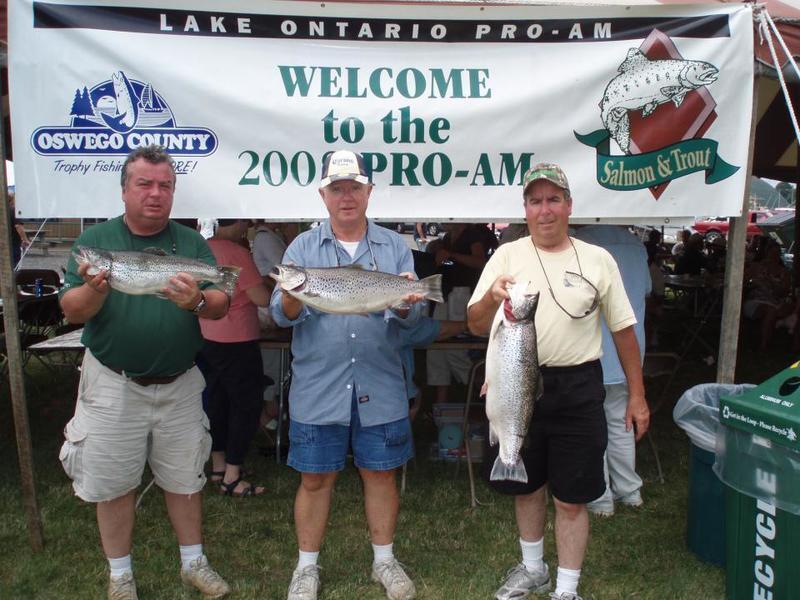 Sunday was crummy all around. Bad weather and worse luck. We had issues w/ the boat and got a late start. I figured it best to hit the brown right off the bat- I guess that was the wrong choice. Just get set up and bam fish on- only to loose it at the boat- bad start
So we troll for a few hours and finally nail 2 in in 10 minutes then miss 2 more in the next .5 hour. Dead again until we decide we had enuff. Just ready to pull the line a nice steelie grabs our spoon and puts on a nice jumping display only to snap the line 20' behind the boat. OH WELL weekend over-
THANK GOD!!
Monday was rough and we were back off the Salmon River fishing for browns- Nothing hot n heavy but stevie managed to get a few brithday browns before another party member got sick and we headed in early.
Same story- 100' of water down 90' back 15-30' on die hard stingers.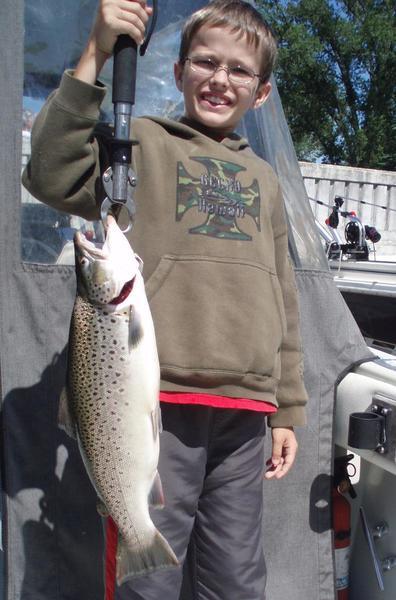 Fish Species: salmon and brown trout
Bait Used: spoon- spin drs/flies
Method Used: troll
Water Depth: 80-300'
Water Temperature: surface 69-70 down 90-100' -50-60 degrees
Wind Direction: SW-W
Wind Speed: 5-15
About The Author: Captain Shane Thomas
Company: Salmon River Guide
Area Reporting: Salmon River & Lake Onatario- Oswego cnty NY
Bio: 17 years guiding/chartering Lake Onatrio & Salmon River NY- fishing for salmon steelhead walleye brown trout smallmouth bass pike
315-298-4530
Click Here
For Past Fishing Reports by Captain Shane Thomas