Everglades backcountry, 28 Feb
2012-02-28 18:36:21
Flamingo, Florida - Saltwater Fishing Report
Flamingo and Everglades City
<p>I was on the road almost continuously this past week, logging four days at Flamingo and two at Everglades City (and in the process clocking 1500 miles on my trailer). Fishing is good now and at times just a bit unusual.... On both sides of the Park there's lots and lots of speckled trout, nice sized redfish, very large snook (with lockjaw), and an occasional very big grouper. Whether it's light spinning gear with small lures or fly fishing, we found plenty of action. The unusual was a first for me- Bruce Rueben, a skilled fly fisher caught and released a small sawfish on a little black fly. In over 30 years this was a first on my skiff (and I've never heard of anyone else even hooking one on fly either...). The juvenile saw just plain attacked a small maribou fly (the Blacklight Special, one that Bruce tied up himself) on sight, striking it with its bill (correct name for that toothy weapon is a rostrum) and getting hooked right then. The fish was carefully handled and released since they're under all sorts of protections.... Here's the pics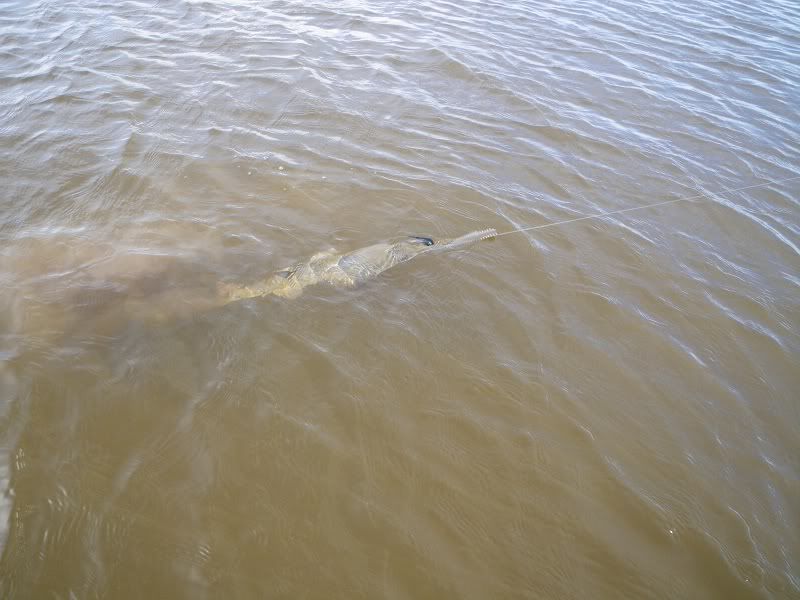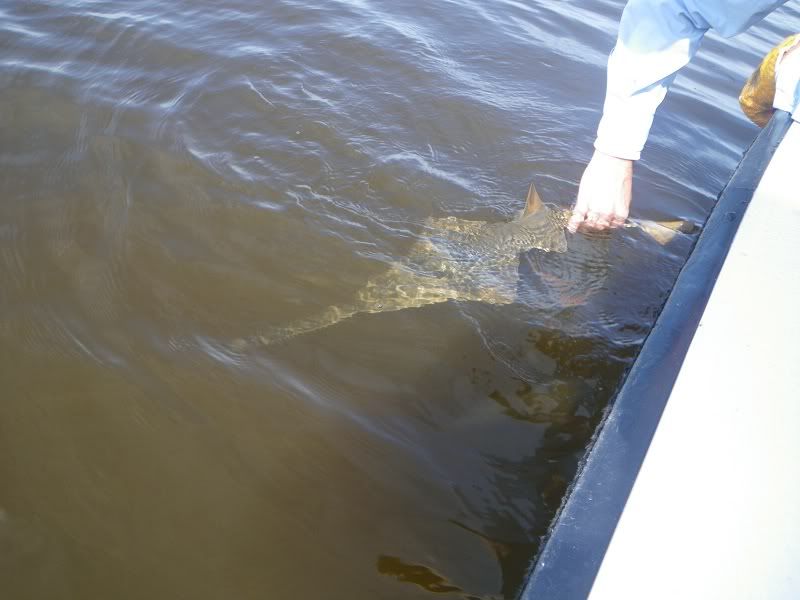 Bruce went on to catch and release lots of fish on fly including a small bull shark that also ate the black fly on sight, and a very nice fat speckled trout. Here's the pic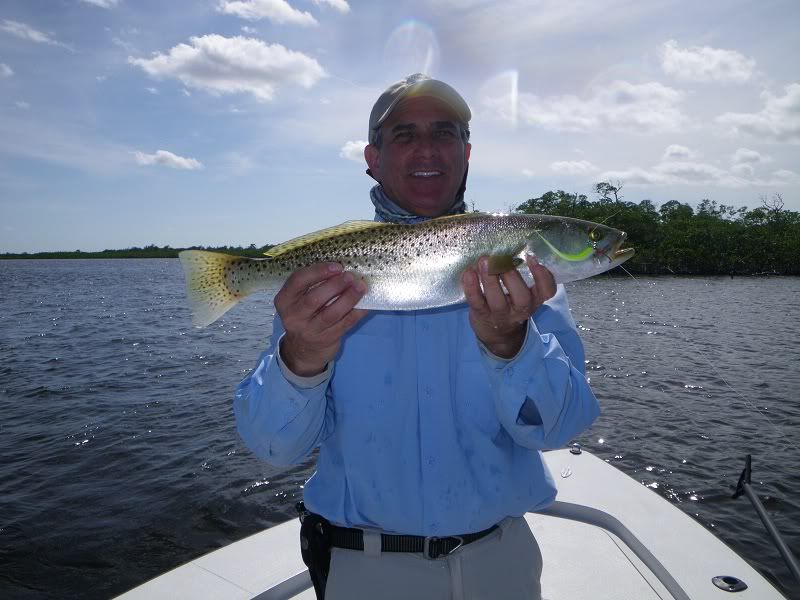 It was taken on a Whitewater Clouser, size 2/0
Over on the west side of the Park I fished local anglers Clint Crawford and Bill Miller out of Everglades City. That day we had shots at snook almost too big to describe - the little ones were in the 15lb range the biggest girl looked to be almost 30lbs --- all of them with lockjaw (and it's pretty tough to get shot after shot at trophy sized snook that were entirely too suspicious). Later that day after we'd caught small snook and a variety of other fish, Clint scored with a very nice red in sight fishing conditions... here's the pic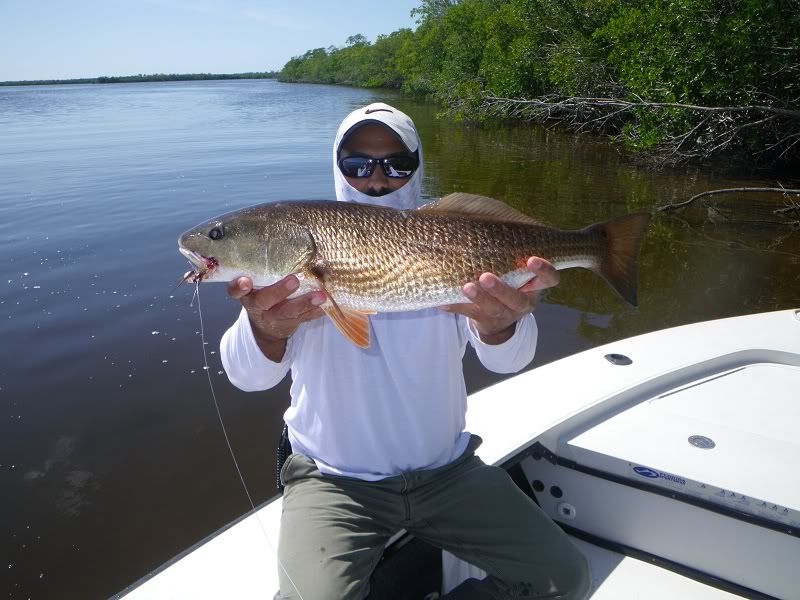 it was taken on an LBJ (that's little brown jig for those that don't run the backcountry)... a great catch and release on light line.
The next day I was back at Flamingo where we caught lots of trout, this small grouper...
and lost another after a short fight that was much, much bigger. While young Adrian was using spinning gear, his dad George was fly fishing. We finally found a few large tarpon laid up inside Whitewater Bay in the afternoon but the wind conditions were marginal at best. He did get shots at fish in the 100lb and above range at pretty close quarters but we weren't able to get him any really good shots. Still, there's something about giant fish hanging motionless in three to four feet of water that really get your attention (even if you only get the shot so close that it's hard to cast....).
If the weather will stay mild this next two months in the 'Glades will be pure magic.. Everything's biting now or at least making an appearance....
Tight Lines
Bob LeMay
(954) 435-5666
Fish Species: tarpon, snook, trout, redfish, grouper, sawfish
Bait Used:
Method Used:
Water Depth:
Water Temperature:
Wind Direction:
Wind Speed:
About The Author: Captain Bob Lemay
Company: Captain Bob Lemay Fishing Guide
Area Reporting: Biscayne Bay and Flamingo
Bio: Capt. Bob LeMay began his south Florida fishing career almost thirty years ago. He has worked for area tackle shops, mated on charter boats, but the highlight of those early years was winning the Lauderdale Billfish Tournament in 1973 with two anglers who had never fished for billfish before!
By the end of the seventies he was guiding part-time and tying flies commercially. In 1995, he began guiding fulltime. Through Umpqua Feather Merchants his fly patterns are now sold in shops around the world and in catalogues like LL Bean and Westbank Anglers.
954-309-9489
Click Here
For Past Fishing Reports by Captain Bob Lemay