Everglades report, 10 May
2012-05-10 10:51:51
Flamingo, Florida - Saltwater Fishing Report
ENP, Flamingo to Everglades City
<p>This report will break a long dry spell.... the past six weeks have been hectic with bookings alternating between Flamingo and Everglades City. No two days in the 'Glades are ever the same and surprises are an every day occurrence.
Over on the Flamingo side of things tarpon action is growing stronger. Arturo Posada and his uncle Roberto managed to jump three fish on Monday, an 80b fish for Roberto on a live bait and two on lures for Arturo.
Here's a pic or two...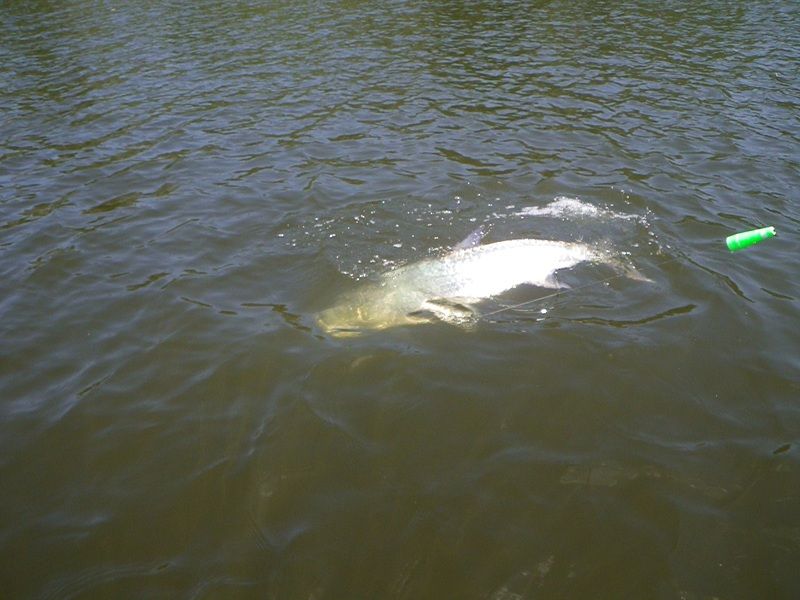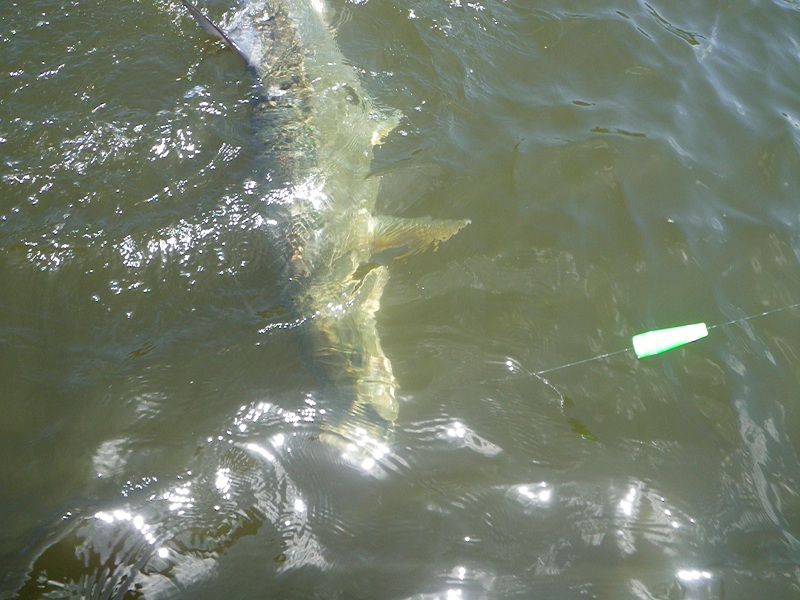 Arturo's best fish was also about 80lbs but hooked up on a jig he made himself and fished on a light spinning rod. He had that fish on for more than 10 minutes with lots of aerial action ( I was a bit too busy to reach for the camera) before shaking free.
Over on the Everglades City side of things my one recent day was in poor condtions, heavy rain in the morning along with a west wind along the coast. We found lots of small tarpon up inside - but all had lockjaw. That afternoon, up inside a big river down south we had a manatee decide to follow us around as we poled up into a shallow cove. That animal followed us for almost 20 minutes, repeatedly coming close enough to touch (must have been one of those city manatees since it showed some scars... normally I never see a mark on any manatee in the backcountry...).
It's pretty obvious now that this is going to be a wet year since the rainy season is well underway. That means that everything's moving out toward the outside to take up residence along coastal areas. In a few short days the big snook of summer will be available every day along with everything else. As my bookings have finally slowed down a bit (most visitors are back up north by this time) I'll be doing lots of repairs and filling orders for flies and lures. In the middle of each week those of us that fish the 'Glades through the summer will have the boat ramps to ourselves again...
Tight Lines
Bob LeMay
(954) 435-5666
Fish Species: tarpon, snook, redfish, trout, grouper, snapper
Bait Used:
Method Used:
Water Depth:
Water Temperature:
Wind Direction:
Wind Speed:
About The Author: Captain Bob Lemay
Company: Captain Bob Lemay Fishing Guide
Area Reporting: Biscayne Bay and Flamingo
Bio: Capt. Bob LeMay began his south Florida fishing career almost thirty years ago. He has worked for area tackle shops, mated on charter boats, but the highlight of those early years was winning the Lauderdale Billfish Tournament in 1973 with two anglers who had never fished for billfish before!
By the end of the seventies he was guiding part-time and tying flies commercially. In 1995, he began guiding fulltime. Through Umpqua Feather Merchants his fly patterns are now sold in shops around the world and in catalogues like LL Bean and Westbank Anglers.
954-309-9489
Click Here
For Past Fishing Reports by Captain Bob Lemay