Everglades report, 5 November
2011-11-05 12:00:57
Flamingo, Florida - Saltwater Fishing Report
interior from Whitewater Bay out to the Gulf coast
<p>With only two trips in the last six days this guide is hoping for better weather... That said, the fishing has been very good on the days with clients. We're in cooler waters now and the snook, reds, and almost everything else is beginning to make the slow migration back into inside waters where it's a bit warmer. There's still a few big tarpon around but their numbers are dwindling. Along the Gulf coast of the 'Glades every different kind of sharks are just tearing up the schools of mullet. The shark action we saw yesterday was impressive, large numbers of mullet swimming around the skiff as blacktips and bull sharks were just blowing them up. I wouldn't have been surprised if my skiff took a hit - that's how close the explosions were...
The big news is still the great grouper action inside the rivers that drain into the Gulf from Oyster Bay out west to the coast... We've only spent just a brief time each day targeting them, but the big gag grouper have been the stars. They're averaging well over the minimum size of 24" and usually between 8 and 10 pounds. Whether it's live or just cut bait the grouper are attacking any food that comes near them. Here's a few pics...
Young Canadian Julian Emond released this one a week ago, the next two pics are Steve Hain with two nice fish taken in less than 30 minutes from the same spot...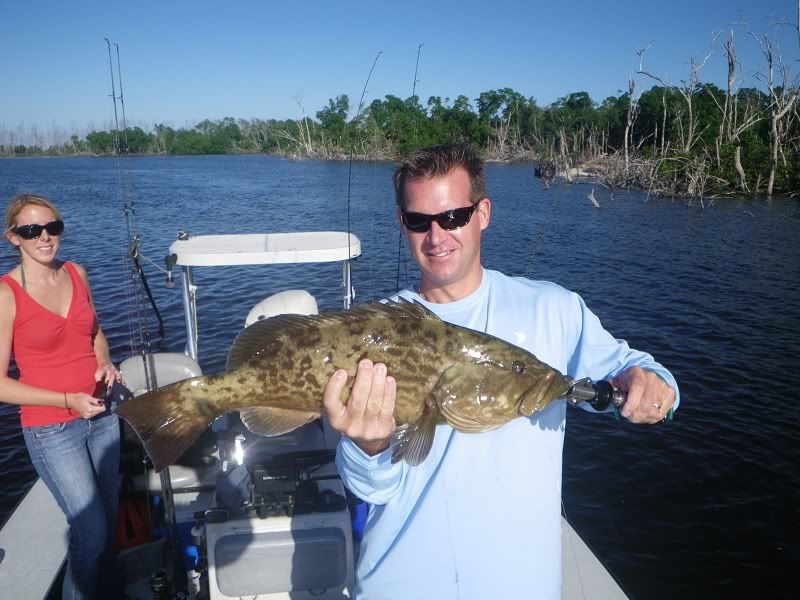 Every fish was carefully released and I hope to tangle with them again. Local anglers would probably be making plans for dinner in these circumstances....
Now if the wind would just lighten up a bit things at Flamingo would really turn on. We're still finding nice redfish up inside for sightfishing and they'll soon be joined by the snook and trout that are moving into the interior. Just remember that when the weather won't let you fish the Atlantic, the Everglades is still very fishable even in bad weather conditions.
Tight Lines
Bob LeMay
(954) 435-5666
Fish Species: sharks, grouper, redfish
Bait Used:
Method Used:
Water Depth:
Water Temperature:
Wind Direction:
Wind Speed:
About The Author: Captain Bob Lemay
Company: Captain Bob Lemay Fishing Guide
Area Reporting: Biscayne Bay and Flamingo
Bio: Capt. Bob LeMay began his south Florida fishing career almost thirty years ago. He has worked for area tackle shops, mated on charter boats, but the highlight of those early years was winning the Lauderdale Billfish Tournament in 1973 with two anglers who had never fished for billfish before!
By the end of the seventies he was guiding part-time and tying flies commercially. In 1995, he began guiding fulltime. Through Umpqua Feather Merchants his fly patterns are now sold in shops around the world and in catalogues like LL Bean and Westbank Anglers.
954-309-9489
Click Here
For Past Fishing Reports by Captain Bob Lemay