Fishing report, 13 September
2011-09-13 18:35:58
Flamingo, Florida - Saltwater Fishing Report
Everglades National Park, Biscayne Bay
<p>This report will cover the last seven days with the best fishing during daytime trips out of Flamingo. Night trips this past week in Biscayne Bay were only fair at best...
Out of Flamingo there's lots going on as we move towards that first cold night, five or six weeks from today. We're seeing large numbers of small to medium tarpon along Gulf side shorelines (particularly yesterday afternoon) when wind conditions are favorable. As long as the wind is generally out of the east (or north to southeast) you're in good shape. If the wind kicks up out of the west... go do something else. A few days ago visiting angler, Charles Ptak, caught and released a nice small tarpon on an 8wt rod with a small popping bug. Here's a few pics...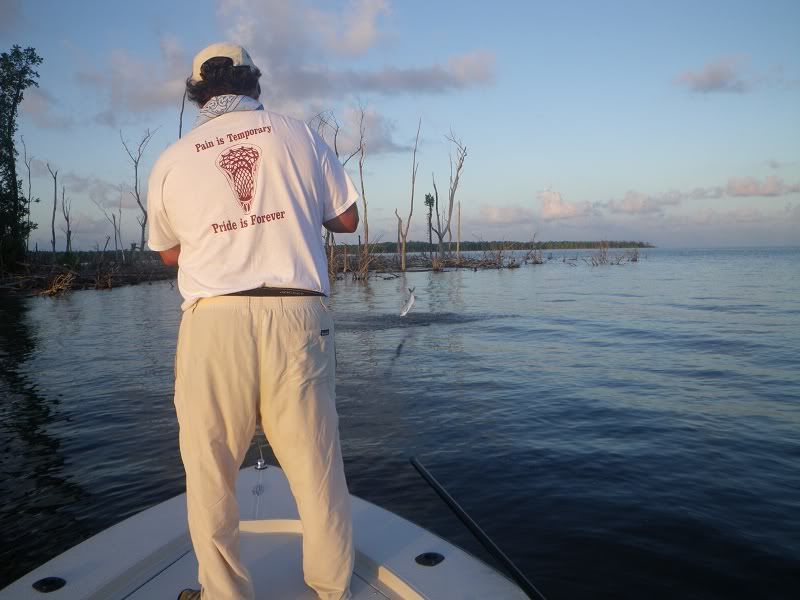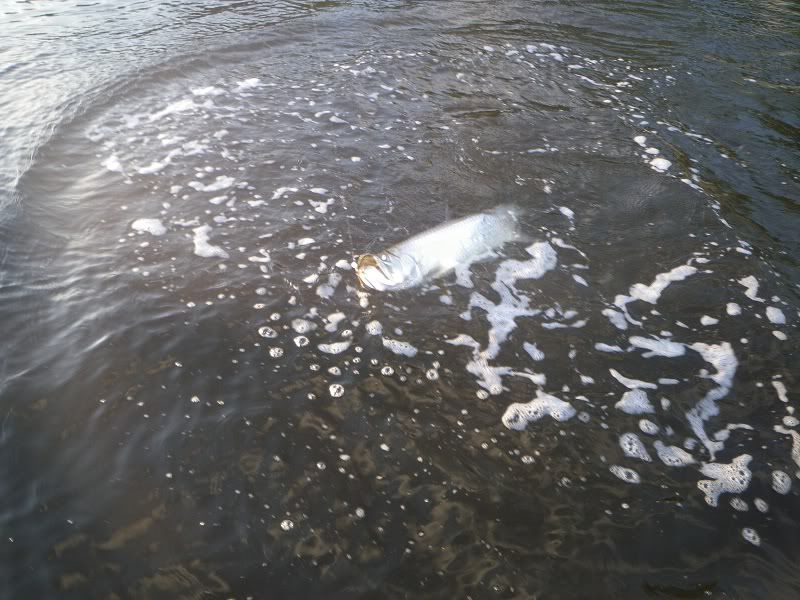 For those that want to fish them, here's a pic of the bug we were using that morning.... Tied up on a #1 hook with a 20 lb fluoro leader and no shock tippet, these soft foam headed bugs (the Speed Bug) are just right for early morning fish....
Yesterday I re-visited the 'Glades and it was a mixed bag. We found trout, reds, snook, flounder, along the coast and back into Whitewater. My best fish was a 30" snook that jumped on a small jig, but I wasn't able to lip the fish and reach for the camera at the same time... the fish had no trouble breaking free instead of posing for a photo before the release. That afternoon the big surprise was a pod of Palm Beach sized snook not far away. Obviously a spawning aggregation, they just tore up all our gear. With only a few ladyfish for bait, every one was just killed the moment it hit the water on medium to heavy spinning gear. Unfortunately the fish were laying next to a bunch of downed trees and it didn't take them long to break off no matter what we did (and we were using 80lb leaders with the drag set to "exterminate"). These were big fish - the small ones were at least 15lbs... While that was going on there were a good sized group of small to medium tarpon rolling nearby.... I must admit we ignored them until it was time to make the 21 mile run back to Flamingo.
The two night trips to Biscayne Bay were a bit disappointing. We jumped three or four tarpon each night but the fish weren't very hungry or in great numbers. We never saw any bait moving in the places we worked which might have had something to do with it. I suspect we'd have done better fly fishing but that's just a guess....
Tight lines
Bob LeMay
(954) 435-5666
Fish Species: tarpon, snook, trout, redfish, flounder, grouper, snapper
Bait Used:
Method Used:
Water Depth:
Water Temperature:
Wind Direction:
Wind Speed:
About The Author: Captain Bob Lemay
Company: Captain Bob Lemay Fishing Guide
Area Reporting: Biscayne Bay and Flamingo
Bio: Capt. Bob LeMay began his south Florida fishing career almost thirty years ago. He has worked for area tackle shops, mated on charter boats, but the highlight of those early years was winning the Lauderdale Billfish Tournament in 1973 with two anglers who had never fished for billfish before!
By the end of the seventies he was guiding part-time and tying flies commercially. In 1995, he began guiding fulltime. Through Umpqua Feather Merchants his fly patterns are now sold in shops around the world and in catalogues like LL Bean and Westbank Anglers.
954-309-9489
Click Here
For Past Fishing Reports by Captain Bob Lemay