Small tarpon on fire, 9 Sept
2010-09-09 09:53:17
Flamingo, Florida - Saltwater Fishing Report
Gulf coast of the Everglades north and south of the Shark river
<p>The small tarpon along the gulf coast of the 'Glades north and south of the Little Shark River are finally showing in large numbers. Yesterday we made an early run at them and we were halfway across Whitewater Bay before the sun came up.... This day we were just using fly fishing gear and it was all that was needed. Brian Cottle from the Boston area brought his nine weight for the trip and I had an additional four rods, in 8 through 11wt sizes as well. We found them at the first spot we checked. Lots and lots of fish rolling and occasionally feeding from the shoreline out as far as 200 yards or so. The fish ranged from five all the way up to fifty pounds or so.... and they were hungry. Brian's first few casts were attacked on sight. At first the fish had it all their way and we lost four or five flies to fish that just ate anything we used. Our bites came on popping bugs, Crystal Schminnows, and a variety of maribou patterns. Once Brian settled down a bit we quit losing flies and the fish stayed on the hook. Here's a couple of pics showing the action....
there's just nothing like an Everglades dawn, twenty miles from the boat ramp with a good fish on an 8wt rod...
this is a good average size of the fish we were in, carefully released in good condition to fight another day...
That morning we jumped 10 fish without moving anywhere and had the entire area to ourselves (we were first at the ramp that morning and by afternoon when we returned our two vehicles were still the only ones in the parking lot....)
Here's a few pics of the flies we used yesterday...
this is the Speedbug in size #1 (called that because of how quick I can tie these soft foam headed poppers)
my version of the Crystal Schminnow with weedguard, also in size #1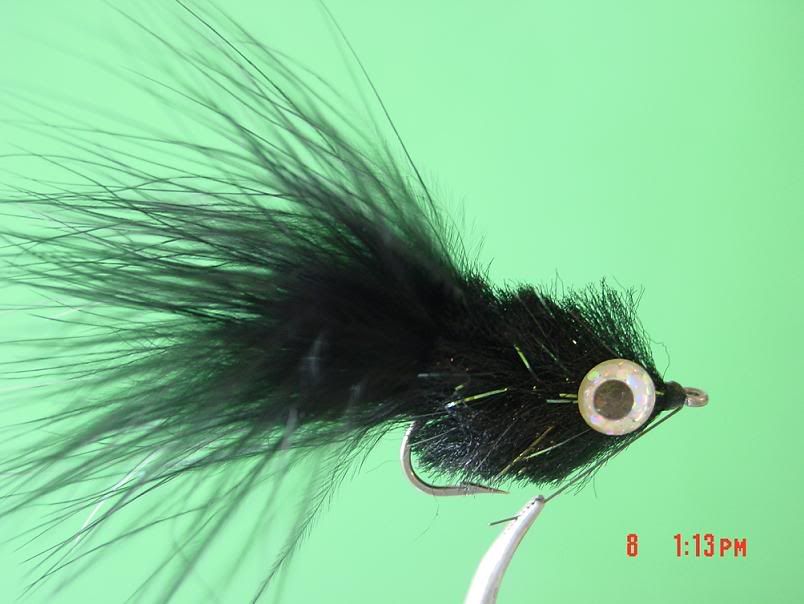 [img][img]
the Blacklight Special (ours were purple and black or pink and white)...
Mixed in with the tarpon were large ladyfish and hungry spanish mackeral that also liked our flies. The macks neatly removed any fly from the leader in the first pass...
Tarpon heaven, and it will be that way until the first cold night in October, right around the time of the World Series every year.....
Tight Lines
Capt Bob LeMay
(954) 435-5666
Fish Species: Tarpon, ladyfish, spanish mackeral
Bait Used:
Method Used:
Water Depth:
Water Temperature:
Wind Direction:
Wind Speed:
About The Author: Captain Bob Lemay
Company: Captain Bob Lemay Fishing Guide
Area Reporting: Biscayne Bay and Flamingo
Bio: Capt. Bob LeMay began his south Florida fishing career almost thirty years ago. He has worked for area tackle shops, mated on charter boats, but the highlight of those early years was winning the Lauderdale Billfish Tournament in 1973 with two anglers who had never fished for billfish before!
By the end of the seventies he was guiding part-time and tying flies commercially. In 1995, he began guiding fulltime. Through Umpqua Feather Merchants his fly patterns are now sold in shops around the world and in catalogues like LL Bean and Westbank Anglers.
954-309-9489
Click Here
For Past Fishing Reports by Captain Bob Lemay