Hello fellow fishermen, anglers, Captains, and friends that read my fishing report each month. Let me tell you what's happening in the fishing paradise that we call Puerto Vallarta, Mexico. In the summertime, there are few places in the world that can hold a candle to it when it comes to fishing for pelagic fish and wall hangers.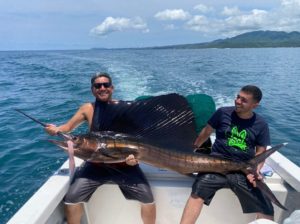 In August, when fishing in our bay you are in for a real treat. The bay and offshore waters are full of Mahi-Mahi, yellowtail, sailfish, marlin, and tuna. The fishing conditions are just right every summer here in Mexico. This fishing haven we called the Bay of Flags, is our little slice of heaven every summer. The bait movement, water clarity, and water temperature all come in line and we all get to experience these incredible fishing conditions.
Here in the bay of Puerto Vallarta, you'll find all kinds of fishing happening this summer. Some of the best Captains will be out and about, live baiting to catch all sorts of pelagic fish and some good-eating fish as well. If you're fishing here in the summertime, you best be ready to try your hand at live baiting for the fish of your dreams or a good meal of mahi-mahi. Live baiting and pitch baits are the top ways to catch fish here in the bay and offshore. The troll is another top method for catching fish here in Mexico.
Puerto Vallarta is one of the largest bays in the world, it stretches along an 85-mile-long coastal strip leading into the Pacific Ocean. That means some of the finest offshore fishing you can find anywhere, August is the time to be here for some truly fantastic fishing in Puerto Vallarta, Mexico. If you are fishing for trophy fish or some of the best-tasting fish you can catch anywhere in the world. We have it all during the summer months. Tuna, mahi-mahi, snapper, and yellowtail just to mention a few. If you're after marlin, fear not! We got both big black marlin and blue marlin that will be waiting for all anglers coming in August. The water temperatures will be around 80 degrees and these are perfect for catching big trophy fish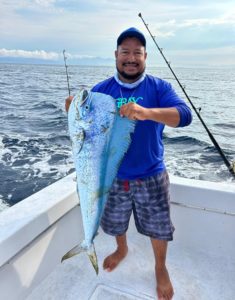 Now, if you're looking to catch some legendary dorado, roosterfish, sailfish, and epic tuna, you're in for a good surprise. The warm waters offshore will be full of these highly sought-after fish. With the perfect conditions and abundance of bait turn Puerto Vallarta into a fishing mecca! Come on down and wet a line with us.
We got various options, from family fishing trips to hardcore marlin and tuna hunting. We offer bay fishing with our trusty 28 ft super panga or the bigger 40 ft deep sea fishing boats.
Whether you're a party of two or a group of 200, we can accommodate you on the same day. Check out our fantastic reviews, and if you have any questions, don't hesitate to ask. We're here to make your fishing adventures unforgettable.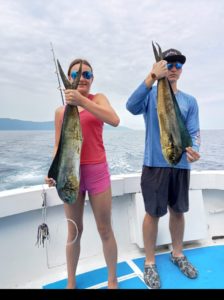 So, give us a shout toll-free 800 430 6048 or shoot us an e-mail at vallartafishing@hotmail.com. Get ready for tight lines and good times in beautiful Puerto Vallarta, where the friendliest folks in the world call home.
Tight lines and hope to see everyone on the water
https://www.travelvallarta.com
Capt. Pete and the crew