Now that Christmas is gone and the New Year in Puerto Vallarta fishing we can look forward to the January fishing report. The last few weeks in December I've been showing us some incredible inshore fishing. If you're looking to come down to beautiful Puerto Vallarta with some great inshore fishing. Beautiful beaches, hotels, nightlife, then the month of January will have all you want.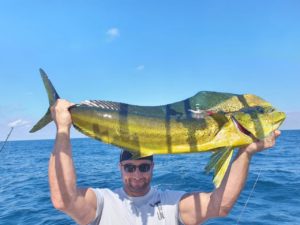 The offshore action changes in January. Seems like when one pelagic species leave the area another one shows up. Such is the case with offshore fishing in Puerto Vallarta. Most anglers do not know marlin love warm water.
The water temp. here never gets cold but will cool down to around 72 degrees in January the black marlin move to warmer waters. This cooling of the water brings all kinds of new bait into the bay of Puerto Vallarta and the striped marlin love this cool water. These fast-eating marlin troll the waters of our bay looking for all kinds of new bait that arrive with the cool waters moving in. There will be dorados to be caught here in the winter fishing. We don't see the big schools but they are found offshore around structures. With warm water and cool waters, the fishing in Puerto Vallarta Mexico is hard to beat.
Some of the best all-around fishing in Puerto Vallarta is right here in our huge bay. The bay here is one of the largest in North America and it just teeming with fish. The yellowtail will be here in full force. These pelagic fish when schooling will hit just about any bait from ralpalas to pitch baits. The latter being one of the best. Most days you will find these huge fish close to shore feeding on the millions of sardines we have here every winter. If you find the baitfish the yellowtail will be in the area. A couple of more incredible fish we find in January are California Bonita and Spanish mackerel. These delicious fish can be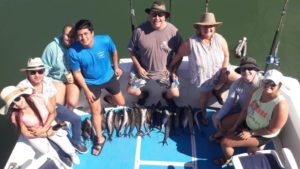 caught at will here in our bay. Seems like the action is non-stop. The best method for catching a boatload to eat is the slow troll with ralpalas along with Clark spoons. The standard squid skirts work as well. The larges on will hit the rigged mullet we troll for sailfish as well. The best water to fish for these fantastic fish is in the bay with ralpalas rigged on the short lines with some black bart medium size lure for mahi-mahi and on the long lines some mullet with skirts for sailfish and marlin. After fishing here for more than 35 years this the best hook-up tolling technique for offshore and inshore fishing here in Puerto Vallarta Mexico.
The New Year here was a blast. We started off with lots of fireworks and hot fishing. If you are looking for a fantastic place to fish and have a fun time then come down to beautiful Puerto Vallarta where the friendliest people in the world live and work. Some of us are fortunate to be able to fish here every day. Let us be part of your Mexico vacation. Please call 800 4306048 or shoot us an email vallartafishing@hotmail.com
https://www.travelvallarta.com
Capt. Pete and crews